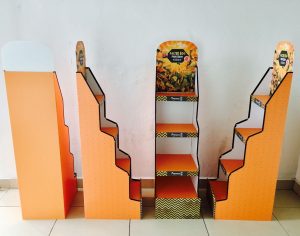 High Definition Point of Sale Display Printing with Fastest Turnaround Time in Singapore
Do you own a retail store or a business counter which accepts orders and payments? Then you will need a point-of-sale display or POP Standees. These are also known as point-of-purchase displays, or counter-top displays. Many businesses use these point-of-sale displays as a way to drive up additional sales because when a customer is lining up to pay, his or her attention can be drawn to those "last minute" items to the point where he or she decides it is needed.
Talk about a "captive audience"!
Traditionally, stores like to display lower cost and common goods near or at the counter such as chewing gum, mints, sweets, tissue paper, mineral water, parking coupons and even lottery tickets. Counter staff can also use these point-of-sale displays to make a promotional overture to the customer, e.g. a two-for-one deal.
These can be made of foam board, cardboard, plastic or Perspex. Print City has the expertise to craft out the concept, design and production of your point-of-sale display whether they are 2D POP standees style, 3D or even display holding merchandise.
Some businesses report that using point-of-sale displays or POP Standees, sales have been driven up by more than 20%. Outlets which benefit from these marketing tools include:
General household goods and sundry stores
Lottery and ticketing outlets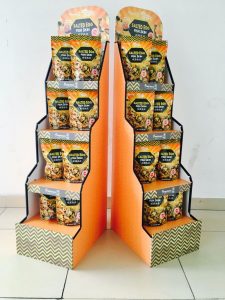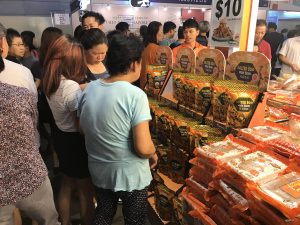 Fragrance Foodstuff (香味) Brief Case Study
Fragrance Foodstuff (香味) has been retailing it's Salted Egg Fish Skin across its 40 outlets in Singapore. The previous packaging came in plain bottled form with a simple sticker of Salted Egg Fish Skin and information about the product. Despite that, the product was still well received due to the current popularity in the market. After a consultation, Fragrance Foodstuff (香味) engaged Print City services for design and conceptualization of the product packaging and POP Standee to further appeal to a wider array of customers.
After a month of conceptualization, Print City designed and fabricated the product packaging and the POP Standee and begun retailing across outlets in Singapore. Statistics had proven that the new design and concept was appealing to consumers of all ages and the sales soared and were even better received than before.
Looking to increase your sales of your products with a new concept of product packaging and POP Standee?
Talk to Print City, an acknowledged leading Singapore point-of-sale display and point-of-purchase supplier. Our high quality printing, customized and fast-turnaround process means that we can get your displays created and distributed to your stores islandwide within days.
Telephone us at +65 6274 8171 or click here to email us your requirements for POS display without delay!
Investing Destiny
2022-01-17
Very satisfied and happy with Print City's services and output. Fast response from Aden. First time printing own calendars, Print city delivered exactly what we designed, and the quality was better than we expected, and their pricing was the best value we found. Keep up the good work, and we will be back 10 months later 🙂
Arnaud LAPEYRIE
2021-11-02
Very helpful staff to prepare the printing and details The work was done fast and the printing is of very good quality for a decent price Thanks again!!
Shivali Tulsyan
2021-10-25
1. Very good Service 2. Very fast 3. Very Responsive 4. Helpful Definitely ordering again. Thank you 🙂
Anna Lisa Joosten
2021-08-13
Had a very smooth experience with Printcity. Prices were the best i could find in the market. Aden was very helpful and went all the way to help me print two large scale posters. His team that came down to install it were also very skilled. I'm looking forward to working with Aden and his team again in the near future.
Express printing available (less than 48 hours)
"Human" customer support (not another web-to-print!)
Direct-from-factory prices
Our Gallery
If you have special requirements on your point of sales display,
do speak to our printing specialists and we will advise you accordingly.
Place your order at our Online Printing Shop to enjoy direct factory prices and get your goods delivered in 48 hours.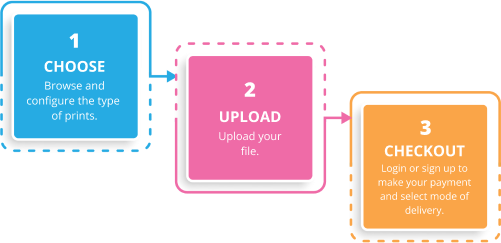 Our Recent Works
Follow Us On Instagram
Get in touch
Get a quote in as fast as 3 working hours!